Is it time to apologize for a history of racial terrorism?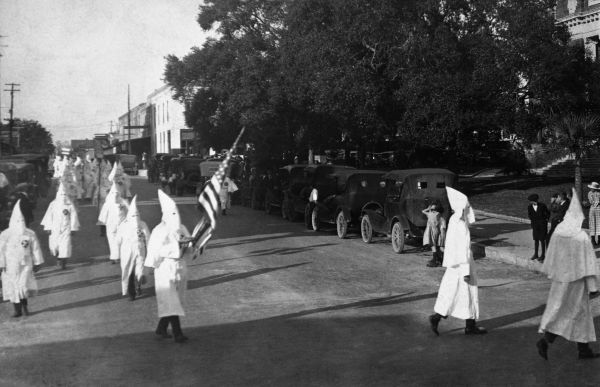 A Ku Klux Klan parade in Brooksville in 1922 drew more than 1,000 spectators -- in a county with fewer than 5,000 residents. Photo from the Florida State Archives.
Hernando County had the highest per capita rate of violence against blacks in the United States, according to a study of recorded lynchings.
Seven lynchings were reported in the county between 1900 and 1931; many of them involved armed mobs of white men snatching accused blacks from the hands of the authorities. Other acts of racial terrorism also were reported, including the castration of a black farmer who had just bought a brand-new Ford.
None of the killers were prosecuted. All of the victims were young black men who had violated a symbol of white power or were alleged to have done so.
Hernando's per capita lynching rate was calculated to be nearly 10 times the overall rate in Florida, which was second only to Mississippi, and more than twice the rate in Levy County, site of the 1923 Rosewood Massacre. The calculations are based on a survey of racial violence by Tuskegee University.
The explanation for the vicious racism in Hernando may be, historians say, that it was an isolated county populated mostly by poor farmers who viewed blacks as an economic threat and ruled by a sheriff who seemed to foster the Wild West atmosphere that was partly to blame for Florida's generally high rate of racial violence.
Read the
St. Petersburg Times
article
here
.
By the way, if you're interested in Florida history,
South of the Suwanee
is a great blog to keep an eye (or a news feeder) on.